Caroline Wozniacki reached her fifth US Open semi-final, and first at any major in two years, by beating an injured Anastasija Sevastova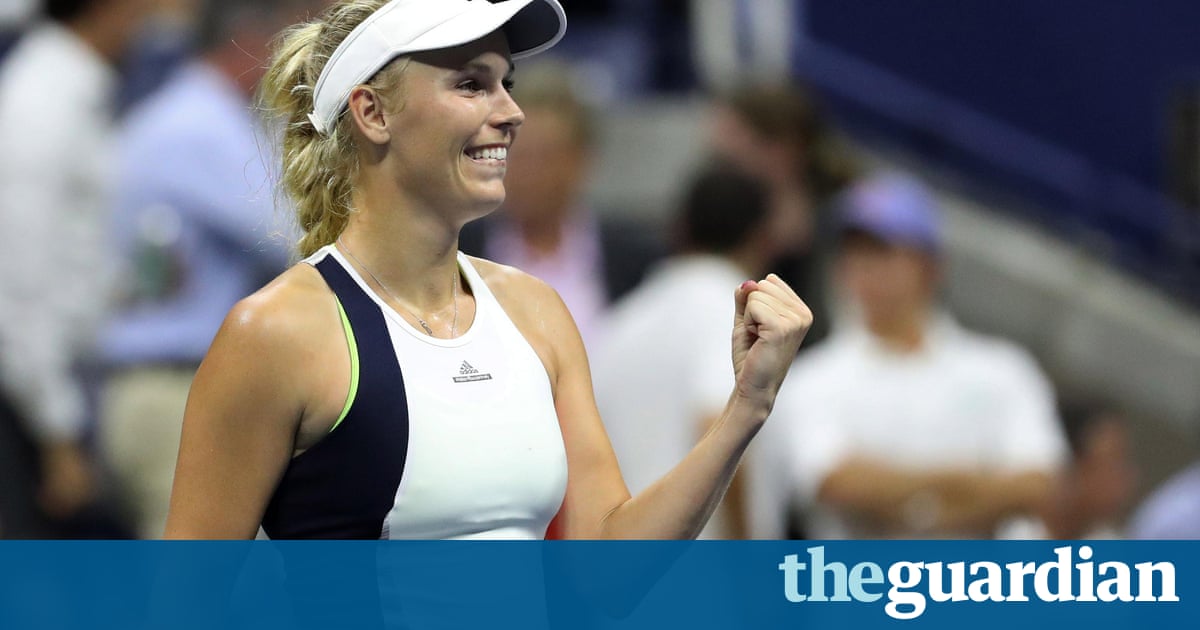 It doesnt matter to Caroline Wozniacki that shes world No74. Or that she didnt win a grand slam match all year until she got to the US Open. She was sure she was capable of another deep run at a major and she was right.
Wozniacki reached her fifth US Open semi-final, and first at any major in two years, by beating an injured Anastasija Sevastova of Latvia 6-0, 6-2 on Tuesday night.
I always believe in myself, no matter what my ranking, said Wozniacki, who has been world No1. Ive beaten pretty much everyone in the draw before.
The 48th-ranked Sevastova twisted her right ankle on the opening point of the second game and clearly was hampered after the injury. During the changeover after the third game, a trainer examined and taped up the ankle during a medical timeout.
Ive rolled my ankle several times, and even this year, I was out for three months with a sprained ankle. So I feel real sorry for her, Wozniacki said in an on-court interview in Arthur Ashe Stadium. It happened early in the match, and then I kept kind of just pushing her back and tried to make her move.
Wozniacki, twice the runner-up at Flushing Meadows, will meet No2 seed Angelique Kerber in Thursdays semi-finals. Its been quite a resurgence for Wozniacki, who lost in the first round of the Australian Open, missed the French Open with the ankle injury, and lost in the first round of Wimbledon.
But after dropping the opening set of her first-round match against Taylor Townsend at the US Open, Wozniacki has won 10 sets in a row. She eliminated 2004 champion Svetlana Kuznetsova in the second round and No8 Madison Keys in the fourth. Wozniackis last trip to the semi-finals of a major came in 2014, when she lost the US Open final to her good friend Serena Williams. Wozniacki also was a finalist in New York in 2009, losing to Kim Clijsters. Wozniacki exited in the semi-finals in 2010 and 2011.
This was a tough way for Sevastovas US Open to end. She hadnt ceded a set until Tuesday, beating No3 Garbine Muguruza, the French Open champion, and No13 Johanna Konta on the way to her first grand slam quarter-final. Before this tournament, Sevastovas best major run was reaching the fourth round at the 2011 Australian Open, where she lost to it just so happens Wozniacki in their only previous meeting.
After a series of injuries, including to her back, Sevastova found tennis depressing, and she left the sport in 2013. After 18 months away, during which time she studied accounting and marketing in Austria, Sevastova decided to give the sport another go.
Against Wozniacki, she never really had a chance to play her best. After all of 24 minutes, it was 5-0, and half of Wozniackis 22 points came via unforced errors by Sevastova.
That trend would continue, and Sevastova was visited repeatedly by the trainer. As they spoke during one changeover, Sevastova appeared on the verge of tears as she pointed to her troublesome foot. When she finally did win a game the 11th of the match, 52 minutes in Sevastova threw her head back and smiled.
Read more: <a href="https://www.theguardian.com/sport/2016/sep/06/caroline-wozniacki-anastasija-sevastova-us-open-tennis">http://www.theguardian.com/us</a>