The Golden State Warriors opened the NBA finals at a furious pace, winning Game 1 with ease against a disjointed Cleveland Cavaliers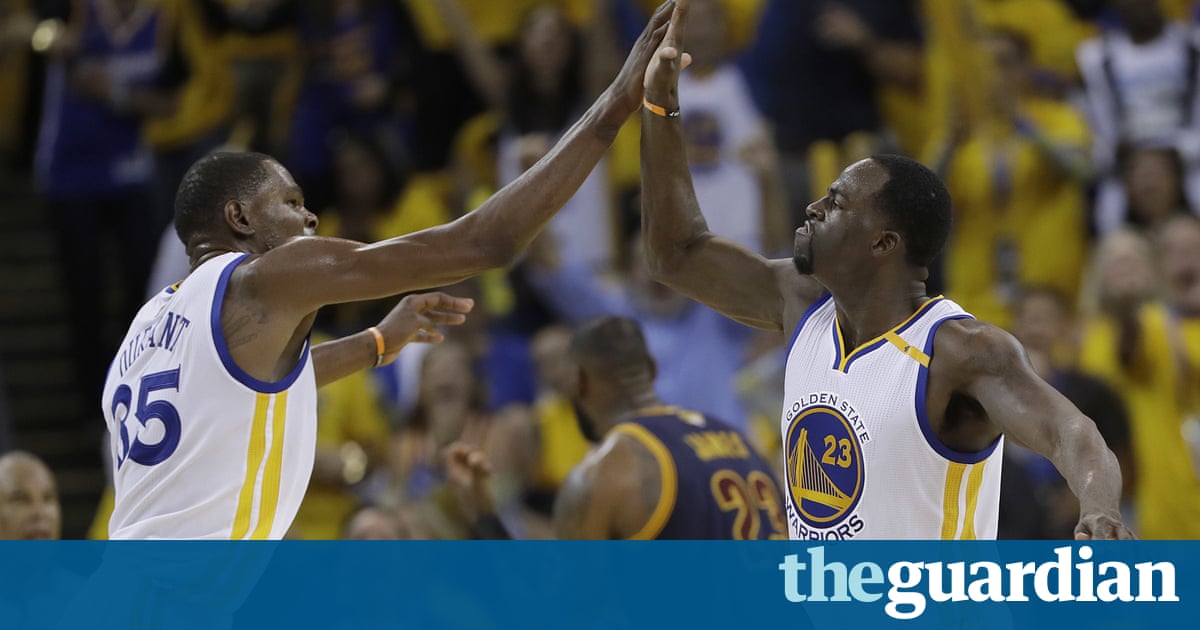 The last time Kevin Durant played in the NBA finals, he walked off defeated and in tears. Its safe to say things went better this time around: Durant was nigh on unstoppable as the Golden State Warriors trounced the Cleveland Cavaliers, 113-91, in Game 1 on Thursday night in Oakland.
With their resounding victory, the hosts sent a strong message to the reigning champions: they want their crown back. In the Cavs and Warriors third finals match-up in as many years, Golden State are hoping to take home the trophy and secure dominance in what is becoming the NBAs fiercest rivalry.
In his first championship series with the team, Durant led the Warriors with 38 points and remained a presence mentally and physically despite the teams rough start, which he attributed to being too anxious.
KD didnt settle, Warriors acting head coach Mike Brown said. When he had an opportunity he took it.
Typically known for draining three-pointers, the Warriors only hit 11 due to several missed shots and Clevelands tough perimeter defense. But where others saw a problem, Durant saw an opportunity: he had three uncontested dunks while the Cavaliers were trying to cover Stephen Curry and Klay Thompson on the three-point line.
Curry, last years Most Valuable Player,added 28 points and 10 assists. After picking up two early fouls, Draymond Green played it safe on defense but still had an impact with 11rebounds. The Warriors struggled to capitalize on rebounds, but what they did capitalize on was team chemistry; they had 31assists, nearly double Clevelands total.
Im only as good as my team-mates, and we just try to complement each other and make the game easier for each other, Durant said.
Curry agreed: Were only gonna do it together, thats our whole mindset.
The Warriors played with the same quick pace thats kept them unbeaten in the playoffs and winners in 28 of their last 29 games overall, earning three times the amount of fast-break points. What they lacked in three-pointers they made up for in the paint, with 56 points to Clevelands 30.Bench players such as JaVale McGee and Andre Iguodala made several strong dunks and did their best to block the big men of Cleveland.
Clevelands sloppy offense they only shot for 35% from the floor was matched by a porous defense. The team had 20 turnovers while Golden State only had four, and they allowed the Warriors to nab 50 rebounds.
They capitalized on our mistakes, Cleveland point guard Kyrie Irving admitted.
Despite the loss, LeBron Jamespassed Reggie Miller to move into second on the list of three-pointers made in the playoffs. Last years NBA finals MVP carried his team with 28 points and 15rebounds. Irving added 24 points but was little help defensively, and Kevin Love tacked on 15.
At 13-0, the Warriors remain undefeated in this years postseason, and when their big four Curry, Durant, Green and Thompson play in the same game, they havent lost since February. But theres also a reason why their slogan is Strength in numbers: their bench has proven essential throughout the season. And bench points were welcome on Thursday: Thompson only had six points on 3 of 16 shooting. Normally nicknamed a Splash Brother, Thompsons shooting has deteriorated during the playoffs. He notably wasnt available for questions at the post-game press conference.
The Warriors may have won the battle, but the Cavaliers still think they can win the war. They lost the first game of the finals last year, too, and we all remember how that turned out.
Theyre playing good basketball, said head coach Tyronn Lue, but we can play better.
The Cavaliers have a few days to draw up some new plays and prove it. Game 2 of the best-of-seven-games series is Sunday evening at Oracle Arena.
Read more: http://www.theguardian.com/us